Syringe connected by NFC for better product traceability.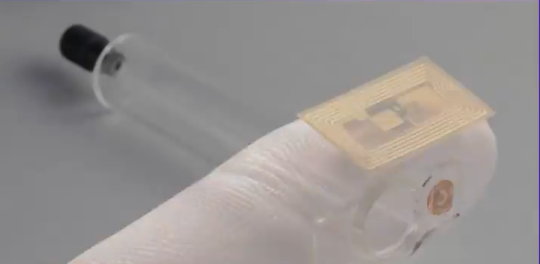 NP Plastibell presents an innovative connected syringe based on NFC components from STMicroelectronics
This pre-filled syringe, which stores important data on the product and its manufacture, will be presented at the Pharmapack exhibition which will take place in Paris on May 18 and 19, 2022
Integrated inside the body of the syringe, this NFC tag allows production teams, healthcare professionals and patients to access important information about the medicine contained in the syringe.
This innovative device is the result of a collaboration between NP Plastibell, a member of the Calyens group, and the giant STMicroelectronics. The latter is well known in the IoT environment by its many components developed to connect the Internet of Things.
It is the company NP Plastibell which is responsible for overmolding the NFC tag chip in the plastic syringe. STMicroelectronics helped them overcome the constraints linked to the integration of NFC tags in the molding process as well as those linked to the sterilization of syringes at a temperature that can reach 130°C.
« NFC tags can store product-specific information through internet links or even through a dedicated app. In this connected syringe, the tag helps medical staff quickly access precise instructions for exact dosage, expiry dates, storage conditions or other important information using their smartphones or an NFC reader. Patients can also schedule reminders on their mobile phone by scanning the tag », explains Yvon Gourdou, Marketing and Applications Director, EMEA, Microcontrollers and Digital Integrated Circuits Product Group, STMicroelectronics.
Connect your products or objects to the outside world using NFC technology as offered by Ma Balise. With our plateforme Nearby, you can also create content related to your NFC tags. Content which is of course always perfectly adapted to reading on your customers' smartphones. Simple, fast and effective !
We are aware that new technologies can bring their share of fears, which is why we support you throughout the process of setting up your NFC campaigns. Contact us for more information !