Contactless Horeca menu – NFC and QR menu best practice guide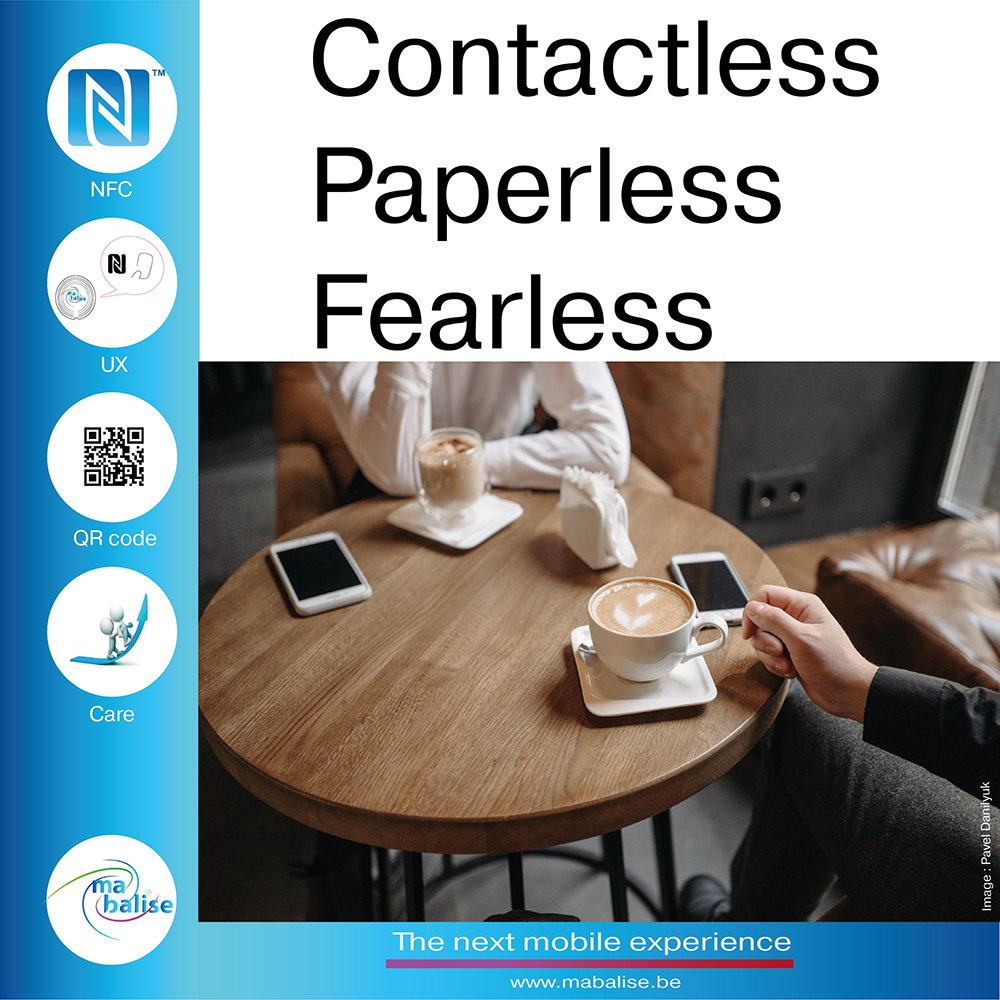 We hope to be able to return to the bar, to the restaurant. For the menu, it will be contactless, paperless, and fearless. But with great pleasure.
Follow QR Code menu best practices to get the best return on investment
QR codes are a game-changer for many bars, restaurants, hotels, and can make life much easier for both your customers and your staff. To ensure you get the most out of your QR codes, consider following the best practices outlined below.
To ensure you get the most out of your QR menu, it's essential that you take the right approach. Whether you use QR codes in your restaurant, your bar, to minimize contact between staff and customers. To allow easy access to your menus, to reduce costs. To become more eco-friendly, or as a new marketing tool, it's crucial that everything is set up correctly.
Mobile friendly QR code menu page
One of the most important things you need to remember when creating your QR code. Almost all of your customers will see them on their mobile devices. The URL to which your customers are directed when they scan your QR code must be mobile-friendly (Smartphones). To create a great browsing experience for your guests. You should avoid creating links to PDF documents, or photos of your card (JPG) and focus instead on so-called responsive HTML menus for a better customer experience. The best thing is to go through a dedicated platform that will guarantee you perfect reading on your customers' smartphones.
These last two solutions allow you to easily add clickable links and multimedia content. What has the power to engage and retain your customers.
The advantages of an html page
Allows you to modify the content of your QR without recreating the code
Can adapt to Smartphones, but not always, the site must be perfectly responsive. which is rarely the case
Allows you to update all your QR codes at once whenever you want. This saves you time and money as you never need to reprint QR codes or replace NFC tags
Allows you to add multimedia links, promotes customer interaction.
Allows you to add a link to rating sites (ex: Tripadvisor, Google reviews, etc.)
You can see the amount of traffic from your QR menu but no more targeted traffic analysis
The advantages of a dedicated platform
A dedicated platform as proposed by Ma Balise offers these advantages:
Modify the content of your QR Code without recreating the code
No need for a webmaster or web knowledge to create or modify your menu
Is perfectly adapted to the Smartphone
Update all your QR codes at once whenever you want. It saves you time and money because you never have to reprint flyers or update a consumer product if you have your dynamic QR code printed
Allows you to add multimedia links, promotes customer interaction
Allows you to add links to rating sites (ex: Tripadvisor, Google reviews, etc.)
Relevant for business, marketing and advertising and good for long term use.
The scans are traceable. You can thus see the amount of traffic of your QR menu.
By using the Ma Balise Nearby platform, you can also analyze user data (demographic, social data, etc.). A very practical tool to refine the target of your advertising campaigns.
The QR code is easier to read because it contains much less data to transmit to the user's Smartphone.
Minimize loading times
In addition to the menu page being Smartphone-friendly, you also need to ensure that it loads quickly. If your menus contain a lot of images, consider using smaller file sizes so that the images load as quickly as possible. The last thing you want is for your customers to wait forever for the QR code menu to load. The frustration of slow loading should be avoided.
Remember to check the network coverage in each location of your establishment. Especially for rooms located in the basement. Offer free wifi access if network coverage is not optimal.
Scan and test before launch
Before printing your QR code, be sure to scan it to verify that it redirects to the correct menu page. Then print a few test copies and place them in different sections of your facility, especially if there is variable lighting in your venue, and run some tests. Test again and again. Everything must work everywhere to ensure a successful customer experience.
With your QR codes properly configured and optimized for Smartphones from the start and tested properly, you can be sure that menu access will be as smooth as possible in your establishment in the future. Your customers will appreciate!
Display your QR menu on your tables
The first place you should start displaying your QR code (or NFC tag) is on every table in your restaurant. When your customers are directed to their table by your staff, be sure to highlight where the QR code or NFC tag is and how it works (this is even more important if you are using an NFC tag).
Some restaurants have chosen to permanently attach their QR code to their tables on small plaques to ensure that they are always accessible and that your staff does not forget to bring the codes to your customers.
Other restaurants have placed a freestanding table totem, trifold or other advertisements on their tables that include the QR code (and NFC chip tag) and brief instructions on how to use it. Whichever way you choose to move forward,
It is crucial that you display your QR codes on the tables of your restaurant where your customers can easily find them.
What minimum size should a QR code have?
The theoretical minimum size is 1cm1cm. In practice, it is necessary to consider the distance at which the code will be scanned. In the case of a QR menu, the code to be scanned is generally at the user's fingertips. We can therefore consider that the distance between the QR code and the Smartphone will be around 20 cm. In this case the minimum size will be 2cm2cm. (If you are not using a dedicated platform, you must enlarge the QR code)
If you choose to go through a dedicated platform, the QR code contains less information to transmit to the Smartphone, which makes it more readable.
The customer experience is not only in his glass or his plate!
Never lose sight of the fact that the customer experience is measured throughout their journey with you.
It starts before pushing the door of your establishment, consulting your menu. These are details just as important as the welcome, the attention of your staff or the quality of the products you offer.
A quality QRmenu increases turnover
With a QR code or an NFC tag permanently visible on the table, your customers can access your card without having to call the waiter, which during their stay in your establishment will be more easily tempted by an additional product. (A dessert, a coffee shoot, for example)
Restaurateurs, Horeca players, We have a solution so that it costs you nothing. Contact Ma balise to find out more. sales@mabalise.eu
Generate more Google or Tripadvisor reviews
Paying attention to your brand's online reputation has become a crucial part of any business, whether in Horeca or elsewhere. Our unique solution aims to help you build a lasting online reputation and loyal customer relationships.
Did you know that the majority of your customers are ready to leave a positive review if you ask them?
Did you know that the majority of your satisfied customers will never leave a positive review, simply because they don't think about it?
By offering your customers a simple, fast and effective solution to give their opinion directly from your establishment in a scan, you risk appearing in the top establishments on Tripadvisor and thus boosting your turnover. What are you waiting for? Contact us !