Enhance a visitor's experience at the museum
Wondering how to increase the visitor experience in your museum or gallery?
While visiting a museum, exhibition or art gallery, have you ever noticed the amount of visitors walking around with their smartphone in hand? There are often many more than those using the audio guide provided free of charge.
The pandemic we are experiencing has highlighted the risks associated with the constant manipulation of these audio guides by the majority of visitors.
During a visit, more than 90% of visitors consult their smartphone at least once. Many of them do so in search of additional information on an exhibited work.
How can I exploit these micro moments that the visitor spends on his Smartphone and ensure that it is my content that he looks at and not that of others?
Ma Balise provides you with high-performance technological tools to get in touch with visitors directly on their Smartphone, without contact. The technology used is NFC for Near Field Communication.  It works on all recent Gsm, without application. An interactive solution to better accompany the public during their visit.
A visit is above all a human experience, stirring all the senses of the visitor. Technology therefore supports this visitor experience and cannot be relevant if this technology does not improve this user experience (UX).
Watch on vidéo :
To access this contactless interactive content, the visitor, equipped with his inseparable weapon, namely his Smartphone, unlocks his screen and brings his Gsm to the nfc tag placed on the scan invitation pictogram. He instantly receives the content on the screen of his mobile without any application. It's simple, fast and effective ! For visitors equipped with very old Smartphones, they can always fall back on QR codes.
Wondering what an alternative to using audio guides in museums, exhibitions or art galleries?
It's very simple, by affixing a label containing an NFC chip, an NFC tag, next to the work on display. You connect your NFC tag to content that you have created, for example on one of our content creation platforms in mobile format. In this content, you insert audio content or even better, video content and to add even more interest, you add additional informative text, photos and why not clickable links. You will take your visitor to a new experience.
Extract from the program Culture L on RTC Télé Liège:
The advantage of NFC, compared to a QR code for example, is that you just have to put your phone near the tag for the information to appear. No need to turn on your phone and launch a specific application!
No need for suitable lighting to be able to scan the QR. NFC is the logical evolution of QR.
From the moment the connection is made, you have direct access to videos, soundtracks, photos or any other media to enrich your visit. So the next time you visit a museum, castle, exhibition…; whether in Belgium or abroad, do not hesitate to activate the NFC on your Smartphone, your visit will be all the more satisfying and interesting. But above all, before going to the museum or the art gallery, do not forget your Smartphone! It would be a shame to miss out on this new experience. 😉
Ma balise has developed a platform for managing and creating content in an exclusively mobile format for managers of museums, art galleries or exhibitions. The Ma Balise Nearby platform allows them to create, manage and modify this content as they wish without coding. It's intuitive. No special computer knowledge is required.
Managers introduce their content directly on the platform and remain in control from start to finish.
Even if you find it difficult to set up your NFC or QR campaign, our team is always at your disposal to guide and support you in all phases of your project.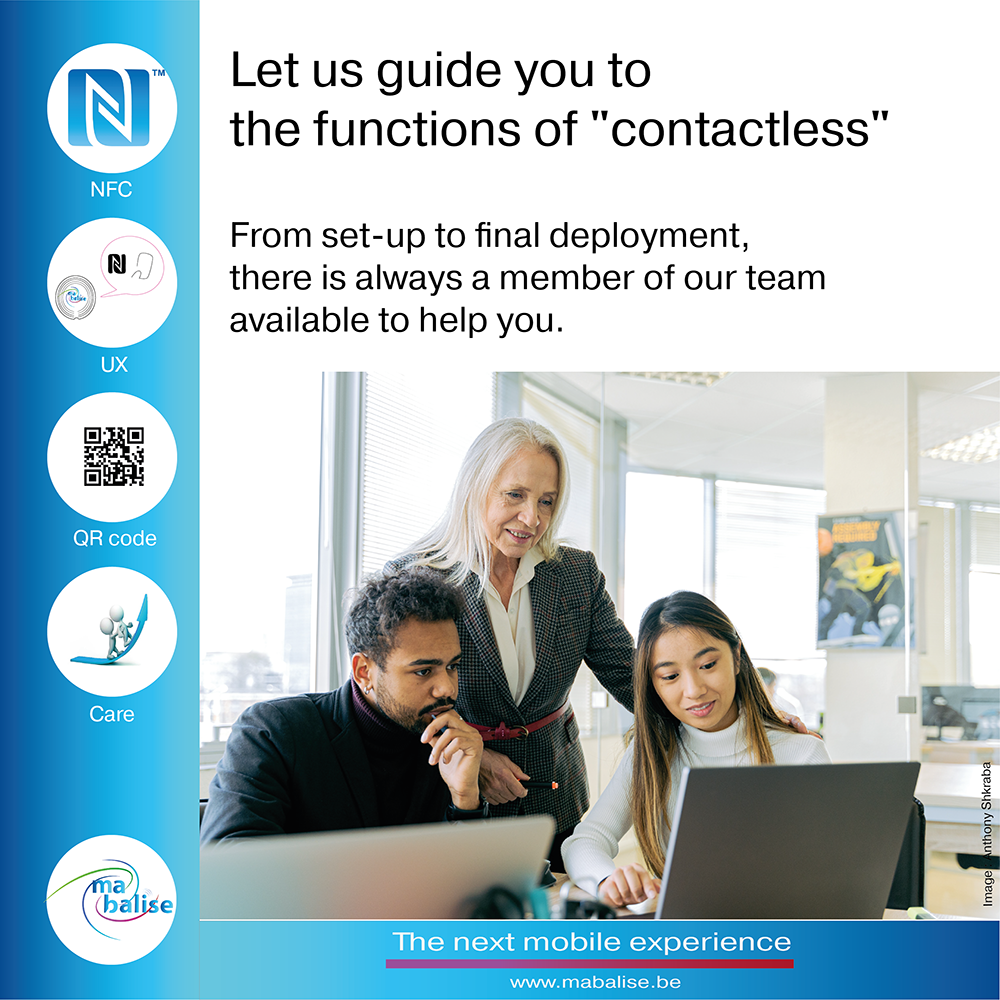 The result is a product with many benefits at a very affordable price:
tools designed to make it quick and easy for the site manager to create and update interactive experiences
a response to the risk of technological obsolescence thanks to constant updates
tools to help understand the public thanks to the IoT (the Internet of things)
You are in charge of a tourist place, an art gallery, a museum and you want to set up an NFC solution for your visitors? Contact us to discuss your project.
Where can I find or buy NFC tags for museums?
You have come to the right address! Visit our shop without delay.
Who can help me implement a contactless communication strategy in my art gallery?
The Ma Balise team will be happy to support you at all stages of your project. From design to final completion, you decide when you want us to intervene.
Contact us, it's without obligation. All you risk is to enrich your knowledge of contactless.
Contactless NFC tags and chips for museums, exhibitions and art galleries