Digital Business Cards: The Future of Networking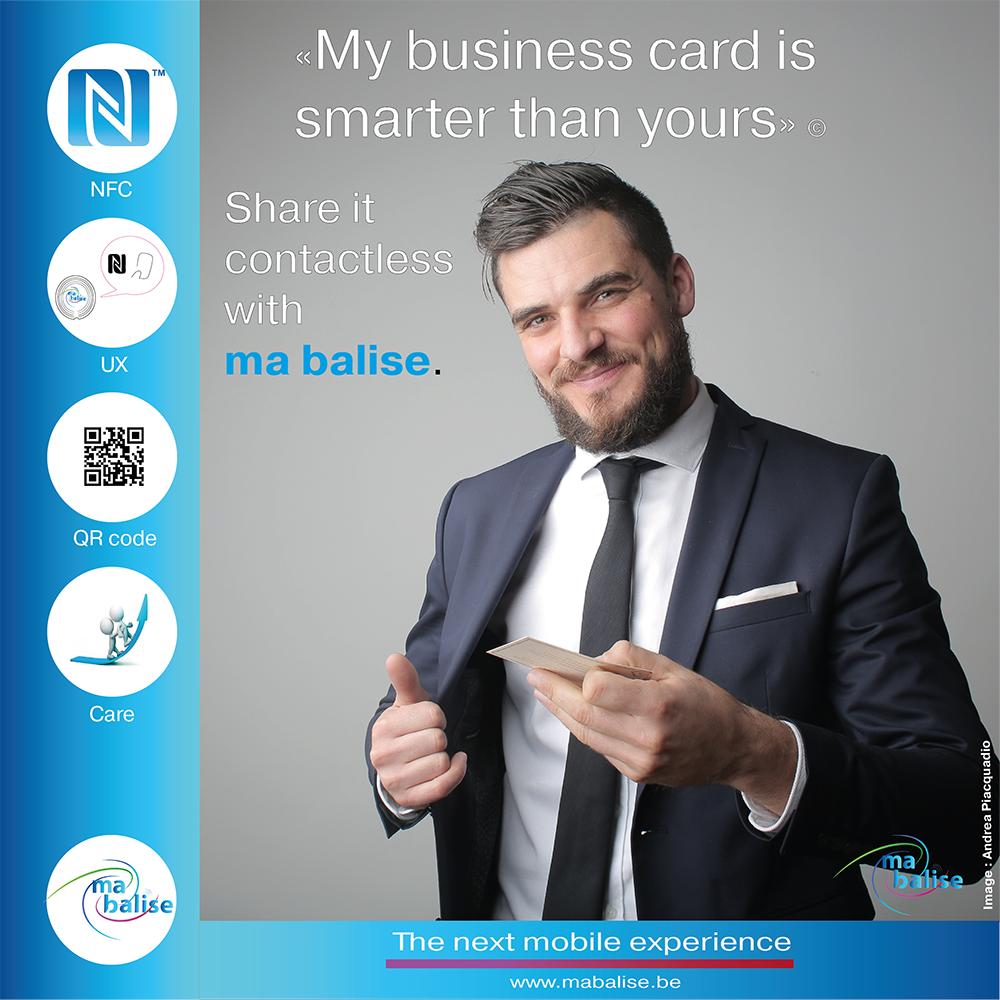 These days, business as usual is no longer business as usual. We adapted hoping that the storm had definitely passed. Whatever happens, the need to diversify and connect with others, even in a time of social distancing will always remain at the heart of human relationships. In these difficult times, the NFC contactless digital business card is becoming a must. Some have reoriented their business in the face of the pandemic.
Business networking, one of the most popular means of professional interaction, is not immune. With more people working from home than ever before, we're all looking for ways to stay connected when we're not face-to-face.
How do we connect to the world at a time when we stay apart?
Digital business cards and brochures present the solution to a unique problem in 2021. With digital business cards, there's no need to touch each other! Digital delivery means you can connect without contact, leveraging the power of technology to bring us closer, even when we spend time apart.
Digital business cards offer a number of advantages over traditional cards, including:
– Unlimited supply, no more re-ordering.
– Ecological, paperless.
– Synchronization with any device in real time.
– Contact exchange in a fraction of a second.
– You stand out from others, your unforgettable first impression. Follow-up guaranteed!
– Can be edited at any time, even after delivery.
– Without touching, without contact, instant sharing.
– Metrics feedback to measure engagement and effectiveness.
– Change business without changing card.
– iPhone & Android compatible
Staying connected has never been easier! Digital business cards offer the ability to convey information faster and more efficiently than their paper counterparts. Importing and exporting contact information is as easy as pressing a button. This is also integrated into the business card canvas of the Nearby Platform
It's much easier (and more professional) than reaching into your wallet for a crumpled card. Or, even worse, having to announce that you don't have one with you.
Ma Balise allows you to take your digital business card with you in all circumstances since you can program it as a keychain, bracelet, plastic card (credit card type), etc. some of our supports being perfectly waterproof, you will have no more excuses…
Example of a digital business card made with the canvas of the Ma Balise Nearby platform
The platform is in several languages, the call to action buttons will be automatically translated into the language you will use on the platform. The available languages are French, Dutch, English and German. You can also try it for free for 15 days.
Business cards in the traditional form are limited; after all, who could sum up their professional resume to fit on a piece of card stock? With Contactless – NFC Digital Business Cards, every designer has the ability to directly access their creations, bridging the gap between a simple introduction and an in-depth review of a portfolio.
While you're busy working and growing, your digital business cards can be updated to reflect your work in seconds. With the ability to redesign and edit stored information at any time, everyone from executives to entry-level employees will be able to stay up-to-date on the go. Going digital means being able to show the fullness of yourself, your work, and your worth to anyone you might meet. If the pandemic forces you to reorient your business, it is no longer necessary to reprint new cards and throw away old ones. You can update or completely modify your digital business card at any time.
Staying connected is very important and digital business cards make it easier than ever.
Will the digital business card kill the paper version?
The paper version of your business card will not disappear from circulation. There are still followers who prefer an exchange of physical document.
Even if Ma Balise advocates digital, it is not a panacea, and moreover, our founder remains convinced of the merits of the paper version in addition to the digital version, or the reverse.
A cardboard business card, yes, of course, but then with a QR code on the back
The QR code referring to your digital business card so that your counterpart does not have to encode all your data. With this solution, it will do it with just one click.
Share all your social media links
Thanks to our Wais.network platform, you can share all of your social networks at once, with a single url. It is a useful tool for your contactless digital business card, it allows you to direct your vis-à-vis to your website, but also to your social links. A feature that we recommend in your Instagram bio for example.
Our team is always there for you, do not hesitate to contact us. contact us.
A few tips for good networking.
First of all, know that it is by practicing that you will improve.
Participating in a networking event requires preparation.
– Who participates?
– Who do I intend to meet?
– Set yourself a goal.
– Where does this take place?
– Take care of your outfit.
– Having your digital business card with you is a prerequisite.
– Prepare your presentation pitch.
Speak little, listen a lot!
Even if you are very proud of your new digital business card, avoid pushing it at all costs. The exchange of cards will come naturally and there you can hit the mark with yours!
Do you have questions about digitizing your business cards?
Our team is always there for you, do not hesitate to contact us. contact us.